Complete Issue
Author: Joan Zorza.
Source: Volume 03, Number 04, April/May 1998 , pp.49-64(16)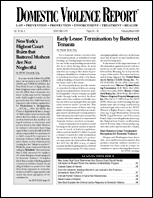 < previous article |return to table of contents
Abstract:
This is the complete issue, Volume 3 Number 4. It includes the full text of all the articles listed above, with hyperlinks from table of contents entries to articles and linked article continuations, to facilitate reading.
Keywords: psychological abuse considered in determining custody; temporary relocations; use of joint funds to file for divorce; National Resource Center in Domestic Violence; Index of Spouse Abuse; Conflict Tactic Scale; Jody Raphael; Sally Lloyd; "The Effec

Affiliations: 1: Editor, Domestic Violence Report.