Important Symposium on Relationship of Domestic Violence and Welfar
Author: Joan Zorza.
Source: Volume 03, Number 04, April/May 1998 , pp.61-62(2)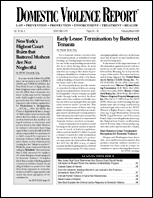 < previous article |next article > |return to table of contents
Abstract:
This column summarizes and discusses the published symposium, "Understanding Women's Poverty: A Symposium on the Relationship of Domestic Violence and Welfare Receipt," as it appeared in 19 Law & Policy (April 1997).
Keywords: Jody Raphael; Sally Lloyd; "The Effects of Domestic Violence on Women's Employment"; Patricia Murphy; Judith Lennett; Joan Meier

Affiliations: 1: Editor, Domestic Violence Report.