Effect of Domestic Violence on Distribution of Assets in Dissolution Proceedings
Author: Staff Editors.
Source: Volume 03, Number 04, April/May 1998 , pp.55-56(2)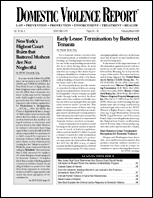 < previous article |next article > |return to table of contents
Abstract:
This column discusses recent court cases involving domestic violence as factor in distribution of assets in dissolution proceedings, including Burgos v. Burgos, 1997 WL 120300 (Conn. Super. Ct. 1997); Waage v. Ojala, 1997 WL 666051 (Minn. Ct. App. 1997); Fausch v. Fausch, 567 N.W.2d 774 (Minn. Ct. App. 1997); Wheeler v. Upton-Wheeler, 946 P.2d 200 (Nev. 1997); Petrusch v. Petrusch, 1997 WL 102014 (Ohio Ct. App. 1997).
Keywords: use of joint funds to file for divorce

Affiliations: .