From The Bookshelf
Author: Nancy K.D. Lemon .; Joan Zorza, Esq..
Source: Volume 03, Number 05, June/July 1998 , pp.72-75(4)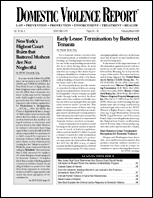 < previous article |next article > |return to table of contents
Abstract:
The following publications are reviewed: "Intimate Violence and the Problem of Consent", by Jane Harris Aiken; "Home is Where the Brute Lives: Asylum Law and Gender-Based Claims of Persecution", by Anjana Bahl; "Domestic Violence and Stalking: The Second Annual Report to Congress Under the Violence Against Women Act", by Office of Justice Programs; "The Trials of Maria Barbella: The True Story of a 19th Century Crime of Passion", by Idanna Pucci; "Violence in Families: Assessing Prevention and Treatment Programs", edited by Rosemary Chalk and Patricia King; "Black and Blue", by Anna Quindlen; "National Guideline for Death Investigation", by Steven C. Clark; "Solutions: The Women's Crisis Handbook", by Lauren Hartman.
Keywords: traditional notions of consent; gender as basis for asylum; National Crime Victimization Survey

Affiliations: 1: Assistant Editor of DVR; 2: Editor, Domestic Violence Report.