Review of Custody Decisions Involving Domestic Violence
Author: Anne L. Perry, Esq..
Source: Volume 03, Number 05, June/July 1998 , pp.69-71(3)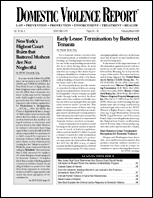 < previous article |next article > |return to table of contents
Abstract:
This article summarizes and discusses recent court cases on the subject of custody in cases of domestic violence.
Keywords: Jackson v. Jackson, 1997 WL 779080 (Ala. Civ. App.,1997); Ford v. Ford, 700 So. 2d 191 (Fla. Dist. Ct. App. 1997); supervised visitation; Morrison v. Morrison, 699 So. 2d 1124 (La. Ct. App. 1997); McDermott v. McDermott, 946 P.2d 177 (Nev. 1997); Sta

Affiliations: 1: Associate Editor of DVR.