Literature on Domestic Violence Torts
Author: Nancy K. D. Lemon.
Source: Volume 03, Number 06, August/September 1998 , pp.91-92(2)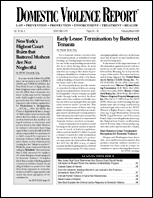 < previous article |next article > |return to table of contents
Abstract:
This column reviews the following publications: Domestic Violence, Domestic Torts and Divorce: Constrains and Possibilities, by Clare Dalton; A New Tort: Domestic Violence Gets the Status It Deserves in Jewitt v. Jewitt ..., by Mercedes Fort; No Longer Following the Rule of Thumb—What to Do with Domestic Torts and Divorce Claims, by Kristyn J. Krohse; and North Carolina's Recognition of Tort Liability for the Intentional Infliction of Emotional Distress During Marriage, by Meredith L. Taylor.
Keywords: double recovery argument; Giovine v. Giovine; Mark Ellman & Stephen D. Sugarman, "Spousal Emotional Abuse as a Tort?"

Affiliations: 1: Associate Editor of DVR.