Municipal Liability for Domestic Violence Homicides
Author: Staff Editors.
Source: Volume 03, Number 06, August/September 1998 , pp.90-90(1)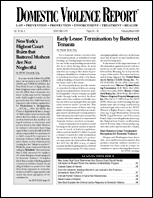 < previous article |next article > |return to table of contents
Abstract:
In Mastroianni v. County of Suffolk, 668 N.Y.S.2d 542 (N.Y. 1997)New York's highest court found a requisite special relationship existed between police officers and a victim for liability. A Florida court found that sovereign immunity did not bar a wrongful death suit if an arrest was made.
Keywords: Simpson v. City of Miami, 700 So.2d 87 (Fla. Dist. Ct. App. 1997)

Affiliations: .