Different Types of Abuse Affect Victims Differently
Author: Staff Editors.
Source: Volume 03, Number 06, August/September 1998 , pp.85-85(1)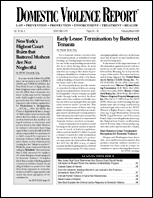 < previous article |next article > |return to table of contents
Abstract:
Battered women appear to be affected in many varied ways by abuse. Only in this decade have researchers attempted to learn why that is. We are starting to get some answers, answers that suggest that women victims respond to different types of abuse in some predictable ways, independent of whether they are being abused by male partners or lesbian partners.
Keywords: abuser's gender

Affiliations: .