Courts' Examination of Federal Prohibition on Batterers' Possession of Firearms
Author: Anne L. Perry .; Nancy K.D. Lemon.
Source: Volume 03, Number 06, August/September 1998 , pp.84-85(2)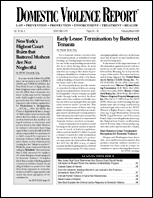 < previous article |next article > |return to table of contents
Abstract:
A 1997 amendment to the criminal provisions of the Gun Control Act of 1968 makes it unlawful for "any person . . . who has been convicted of a misdemeanor crime of domestic violence" to ship, transport, possess, or receive firearms in or affecting interstate commerce. 18 U.S.C. § 922(g)(9). The amendment also prohibits transport or possession of a firearm, affecting interstate commerce, by a person subject to a protective order prohibiting family violence. 18 U.S.C. § 922(g)(8). Subdivision 9 applies to all individuals who have been so convicted or restrained, including federal, state, and local law enforcement officers, and subjects individuals who knowingly violate the law to a fine, imprisonment, or both. This article deals with how courts have interpreted this law.
Keywords: U.S. v. Smith, 964 F. Supp. 286 (N.D. Iowa 1997; U.S. v. Meade, 986 F. Supp. 66 (D. Mass. 1997); U.S. v. Hicks, 1997 WL 832796 (D. Kan. 1997); Nat'l Assoc. of Gov't Employees v. Barrett, 968 F. Supp.1564 (N.D. Ga. 1997); U.S. v. Pierson, 1998 WL

Affiliations: 1: Associate Editor of DVR; 2: Associate Editor of DVR.