Do Head Injuries Cause Wife Abuse?
Author: Joan Zorza.
Source: Volume 03, Number 06, August/September 1998 , pp.83-83(1)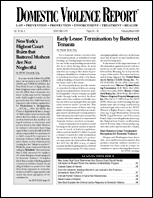 < previous article |next article > |return to table of contents
Abstract:
Within the health sciences and among those hostile to feminist theories, there has been considerable attention in trying to show that domestic violence is caused by factors other than power and control and patriarchy. This article focuses on one aspect of that research.
Keywords: batterers and head injury

Affiliations: 1: Editor, Domestic Violence Report.