Complete Issue
Author: Joan Zorza .
Source: Volume 04, Number 02, December/January 1999 , pp.17-32(16)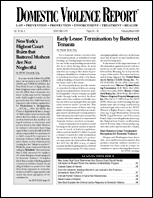 < previous article |return to table of contents
Abstract:
This is the complete issue, Volume 4 Number 2. It includes the full text of the articles listed above, with hyperlinks from table of contents entries to articles and linked article continuations, to facilitate reading.
Keywords: companion animal abuse; In Re Lonell J., 673 N.Y.S.2d 116 (N.Y.A.D. 1st Dept. 1998); emotional consequences for children witnessing abuse; Matter of Theresa CC; Matter of Michael M; U.S. v. Von Foelkel, 136 F.3d 339 (2nd Cir. 1998); U.S. v. Cascian

Affiliations: 1: Editor, Offender Programs Report.