Health Watch
Author: Joan Zorza.
Source: Volume 04, Number 02, December/January 1999 , pp.20-20(1)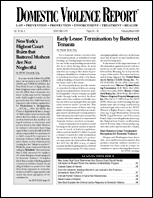 < previous article |next article > |return to table of contents
Abstract:
Alicia Lieberman, Ph.D., and her associates at the Child Trauma Research Project of the San Francisco General Hospital, Patricia Van Horn and Vanessa Johnson, are using a new approach for treating families subjected to domestic violence that is having remarkable results for children. It is discussed here.
Keywords: PTSD Decreased

Affiliations: 1: Editor, Domestic Violence Report.