Backlash Against the Abused Victim in Custody Disputes
Author: Audrey E. Stone .; Rebecca J. Fialk.
Source: Volume 04, Number 02, December/January 1999 , pp.17-19(3)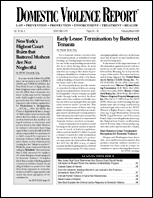 < previous article |next article > |return to table of contents
Abstract:
Currently over forty states mandate courts to consider domestic violence in determining custody disputes between parents. Advocates recognize this as a major step forward as courts acknowledge the negative impact of domestic violence on child witnesses' emotional and psycho-social development. However, all too often such legislative advances are accompanied by a major backlash against the victims of domestic violence. This article discuses those instances, including that of New York State.
Keywords: In Re Lonell J., 673 N.Y.S.2d 116 (N.Y.A.D. 1st Dept. 1998); emotional consequences for children witnessing abuse; Matter of Theresa CC; Matter of Michael M

Affiliations: 1: Pace Battered Women's Justice Center; 2: Pace Battered Women's Justice Center.