From Safety to Healing: Representing Battered Women with Companion Animals P1
Author: Michelle Lerner.
Source: Volume 04, Number 02, December/January 1999 , pp.17-21(5)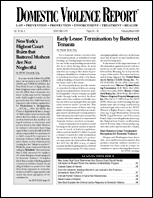 next article > |return to table of contents
Abstract:
This is the first of a two-part article detailing the practical aspects of caring for and maintaining the companion animals of battered women. It is a call to legal advocates to creatively address the special needs of battered women who have companion animals. It includes a boxed insert, "Shelter Programs for Animals in Violent Homes".
Keywords: companion animal abuse

Affiliations: .