Complete Issue
Author: Joan Zorza.
Source: Volume 04, Number 03, February/March 1999 , pp.33-48(16)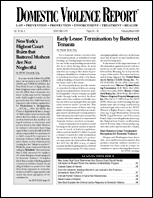 < previous article |return to table of contents
Abstract:
This is the complete issue, Volume 4 Number 3. It includes the full text of all the articles listed above, several of which are inter-related, with hyperlinks from table of contents entries to articles and linked article continuations, to facilitate reading.
Keywords: variations in animal sheltering programs; options concerning animal adoption; Austin Center for Battered Women; Conflict Tactics Scale; shortcomings based on law enforcement reports; National Crime Victimization Survey; National Family Violence Surve

Affiliations: 1: Editor, Domestic Violence Report.