How Good Are Our Domestic Violence Data?
Author: Wanda K. Mohr Ph.D., R.N., F.A.A.N..
Source: Volume 04, Number 03, February/March 1999 , pp.39-40(2)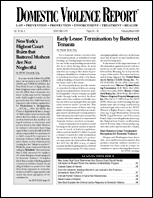 < previous article |next article > |return to table of contents
Abstract:
Precision of measurement is at the heart of assessing patients for intervention. It is at the heart of good medical practice. Likewise, precision of measurement cannot be overstated in terms of estimating the incidence and prevalence of data in the interest of seeking public policy and legislative interventions. Yet how accurate is the information that we collect and how well are we collecting it? This article describes how we collect data about domestic violence and discusses the limitations and shortcomings inherent in the present state of information gathering.
Keywords: shortcomings based on law enforcement reports; National Crime Victimization Survey; National Family Violence Survey

Affiliations: 1: University of Pennsylvania, School of Nursing .