Some New Teaching Tools for All Higher Levels
Author: Staff Editors.
Source: Volume 04, Number 03, February/March 1999 , pp.38-39(2)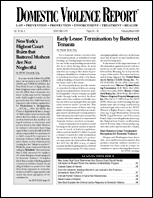 < previous article |next article > |return to table of contents
Abstract:
This column reviews recent publications, including "When Violence Begins at Home: A Comprehensive Guide to Understanding and Ending Domestic Abuse", by K.J. Wilson; "Issues in Intimate Violence", edited by Raquel Kennedy Bergen; "Battered Women and Their Families Intervention Strategies and Treatment Programs, 2nd Ed.", edited by Albert R. Roberts; "Empowering Survivors of Abuse: Health Care for Battered Women and Their Children", edited by Jacquelyn C. Campbell; "Out of the Darkness: Contemporary Perspectives on Family Violence", edited by Glenda Kaufman Kantor & Jana L. Jasinski.
Keywords: Austin Center for Battered Women; Conflict Tactics Scale

Affiliations: .