What Advocates Can Do for Battered Women with Companion Animals Part2
Author: Michelle Lerner .; Joan Zorza.
Source: Volume 04, Number 03, February/March 1999 , pp.35-39(5)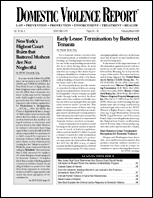 < previous article |next article > |return to table of contents
Abstract:
This is the second of a two part series. In the last issue of DVR we discussed how important companion animals are to battered women and their children and how often abusers deliberately hurt those animals as a way to hurt their partners. In this final segment the authors offer some concrete suggestions about how advocates can help clients who have animals. The article includes a sidebar,"Some Model Animal Sheltering Programs and Other Efforts".
Keywords: variations in animal sheltering programs; options concerning animal adoption

Affiliations: 1: Greater Boston Legal Services; 2: Editor, Domestic Violence Report.