You Call This Aggressive Prosecution: A Gentle Criticism of Current Practices
Author: John B. Nisbet, III, Esq..
Source: Volume 04, Number 03, February/March 1999 , pp.33-35(3)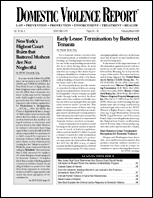 < previous article |next article > |return to table of contents
Abstract:
One of the premier and best known domestic violence prosecution units in the country is located in the San Diego City Attorney's Office. The current San Diego City Attorney (and former head of the domestic violence unit), Casey Gwinn, has stated that "our policy here is to go forward with any case we can prove, with or without the participation of the victim." This premise is examined in practice.
Keywords: "probable cause" as relevant standard

Affiliations: 1: Acuff & Acuff.