PKPA Amendment Requires Involvement of Grandparents in All Custody Disputes
Author: Joan Zorza.
Source: Volume 04, Number 04, April/May 1999 , pp.49-51(3)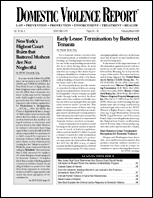 < previous article |next article > |return to table of contents
Abstract:
The Parental Kidnapping Prevention Act (PKPA), the federal law governing full faith and credit for custody decisions, was amended with no debate, effective September 12, 1998, to make two changes, one relatively minor and the other major. The minor change inserts "or visitation" after the word "custody" throughout the act. Since custody has always incorporated visitation, this change makes little difference. The major change inserts "or grandparent" after the word "parent" in the list of contestants. The advantages and disadvantages are discussed here.
Keywords: Change inconsistent with Uniform Child-Custody Jurisdiction and Enforcement Act (UCCJEA)

Affiliations: 1: Editor, Domestic Violence Report.