What Is Wrong with Mutual Orders of Protection?
Author: Joan Zorza .
Source: Volume 04, Number 05, June/July 1999 , pp.67-69(3)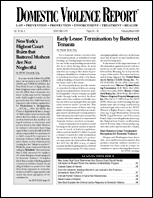 < previous article |next article > |return to table of contents
Abstract:
Mutual orders of protection are protective orders issued against both of the parties to a dispute. Typically they occur within the same document, but they need not do so. Indeed, they could be issued by two different courts at different times, provided that they are both in effect simultaneously. Usually mutual orders are issued after only one of the parties has sought a protective order, particularly when they are issued within the same document. Regardless of how the mutual orders are granted, they have many problems. They often deny due process to one or both of the parties, and they are more dangerous to the victim than having no order at all. This article discusses the pros and cons, though making the case against.
Keywords: (MOP's) trivialize the offense

Affiliations: 1: Editor, Domestic Violence Report.