Fraternal Order of Police Loses Gun Control Challenge on Rehearing
Author: Staff Editors.
Source: Volume 04, Number 05, June/July 1999 , pp.65-65(1)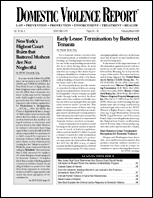 < previous article |next article > |return to table of contents
Abstract:
On April 17, 1999, three judges sitting as a panel of the U.S. Court of Appeals for the District of Columbia ruled on rehearing that the federal district court had properly dismissed a case by the Fraternal Order of Police challenging Congress's enactment of the Lautenberg Amendment, which amended the Gun Control Act of 1968. That law, enacted in 1996 and codified at 18 U.S.C. §922(g)(9), prohibits anyone, including a police officer, who has been convicted of a domestic violence misdemeanor crime from possessing a firearm. For most police officers (and those in the military), not being able to possess a firearm means they will be discharged.
Keywords: Fraternal Order of Police v. United States, 981 F.Supp 1 (1997)

Affiliations: .