From the Bookshelf
Author: Joan Zorza .
Source: Volume 04, Number 06, August/September 1999 , pp.89-89(1)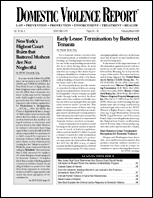 < previous article |next article > |return to table of contents
Abstract:
The authors review the following publications: "Relocation Disputes Involving Domestic Violence", by Janet M. Bowermaster; "Seizing the Ammunition from Domestic Violence: Prohibiting the Ownership of Firearms by Abusers", by Melanie L. Mecka.
Keywords: Lautenberg amendment to the Gun Control Act

Affiliations: 1: Editor, Domestic Violence Repor; 2: Nancy .