The UCCJEA: Why Do We Have It and How Does It Help Battered Women in Custody Disputes?
Author: Joan Zorza.
Source: Volume 05, Number 01, October/November 1999 , pp.1-6(6)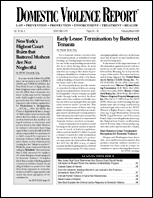 next article > |return to table of contents
Abstract:
The Uniform Child Custody Jurisdiction Act (UCCJA) was written in 1968 by the National Conference of Commissioners on Uniform State Laws (NCCUSL) to correct two major problems of its day: child abductions by family members and jurisdictional disputes (i.e., which state has jurisdiction) in interstate custody or visitation (hereinafter, just called "custody") disputes. NCCUSL correctly saw the two problems as often interrelated.
Keywords: Halvey v. Halvey; need for full faith and credit for custody orders; Parental Kidnapping Prevention Act; PKPA; Thompson v. Thompson

Affiliations: 1: Editor, Domestic Violence Report.