Predicting Court Outcomes in Intimate Partner Violence Cases: Preliminary Findings
Author: Joanne Belknap.; Dee L.R. Graham.; P. Gail Allen.; Jennifer Hartman.; Victoria Lippen Jennifer Sutherland.
Source: Volume 05, Number 01, October/November 1999 , pp.1-4(4)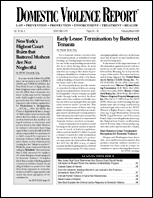 next article > |return to table of contents
Abstract:
To date, research has largely ignored how the courts process intimate partner violence (IPV) cases, namely, cases involving woman battering. This article, summarizing a study conducted in a large Midwestern jurisdiction, used four sources of data to explore how misdemeanor intimate partner domestic violence cases are processed. These are explained in detail.
Keywords: court system is remiss (staying) in touch with victims after their batterers are arrested

Affiliations: 1: University of Colorado; 2: University of Cincinnati; 3: private practice; 4: Northeastern University.