Complete Issue DVR0502
Author: Joan Zorza, Esq..
Source: Volume 05, Number 02, December/January 2000 , pp.17-32(16)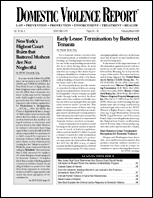 < previous article |return to table of contents
Abstract:
This is the complete issue, Volume 5 Number 2. It includes the full text of the articles listed above, with hyperlinks from table of contents entries to articles and linked article continuations, to facilitate reading.
Keywords: link between domestic violence and employment; Family Medical Leave Act; Fuller v. City of Oakland, 47 F.3d 1522 (9th Cir. 1995); Rohde v. Steel Casings, Inc., 649 F.2d 317 (5th Cir. 1981); Federal Firearm/Ammunition Provisions; Impact of Guilt on Se

Affiliations: 1: Editor, Domestic Violence Report.