Mothers Risk Loss of Custody in Cases Involving Parental Alienation and Abuse Allegations
Author: Joan S. Meier.
Source: Volume 25, Number 04, April/May 2020 , pp.69-74(6)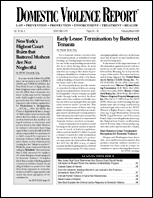 next article > |return to table of contents
Abstract:
Protective parents, domestic violence professionals, and other concerned with family violence have long complained that courts are not receptive to mothers' claims of partner violence and even more skeptical of claims of child physical or sexual abuse, and that many mothers who allege abuse are losing custody. In June 2019, the author and three colleagues completed a five-year study of U.S. custody cases involving abuse and alienation claims. The Study sought to identify (1) the rates at which courts credit (i.e., believe) different types of abuse and alienation allegations raised by either parent against the other; (2) the rates at which parents win/lose the case, or lose custody when alleging any type of abuse against the other parent; (3) the impact of alienation claims/defenses on these outcomes; and (4) the impact of gender. This paper focuses on custody switches from one parent to the other, the data most salient to the growing complaints of litigants that mothers who allege abuse are losing custody.
Keywords: "Parental Alienation Syndrome" (PAS); Child Abuse Accusations; Custody Awards

Affiliations: 1: George Washington University Law School.