U.N. Report Finds Increase in DV Murders Worldwide
Author: D. Kelly Weisberg.
Source: Volume 24, Number 03, February/March 2019 , pp.37-39(3)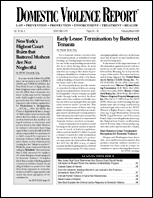 next article > |return to table of contents
Abstract:
A United Nations report has found that the number of female deaths worldwide resulting from intimate partner violence or family-related homicide is on the rise. The study, "Global Study on Homicide," was released by the United Nations Office on Drugs and Crime, and focused on gender-related homicides across the world. We analyze the findings of this new report, which found that more than half of all women murdered worldwide last year were killed by intimate partners or family members.
Keywords: Domestic Homicide; United Nations; World Health Organization

Affiliations: 1: Hastings College of Law.