Coercive Control: How It Impacts Children in Many Different Ways
Author: Emma Katz.
Source: Volume 22, Number 01, October/November 2016 , pp.1-4(4)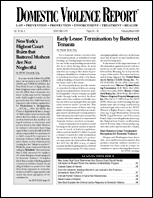 next article > |return to table of contents
Abstract:
Over the past ten years, professionals in the domestic violence field have begun to recognize the impacts of coercive control on adult female victims. What has been missing from our understanding is that the children of these adult victims are experiencing coercive control too; they are not just being exposed to physical violence. In this article the author presents finding from her recent study including the affects and implications of coercive control as well as resistance and recovery.
Keywords: emotional abuse; control of time and activities; isolation; financial control; redirected attention; complex support needs

Affiliations: 1: Liverpool Hope University.