Do Batterer Programs Work?: A 15 Month Follow-Up of Multi-Site Evaluation
Author: Edward W. Gondolf, Ed.D., M.P.H..
Source: Volume 03, Number 05, June/July 1998 , pp.65-67(3)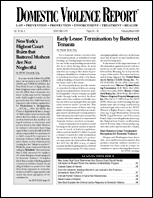 next article > |return to table of contents
Abstract:
One of the most pressing questions for policy makers and practitioners in the domestic violence field is whether counseling programs for men who assault their female partners—or "batterer programs"— are effective in preventing further assaults on women. A second inquiry also being vigorously debated is what is the most effective referral procedure, program length, and program format? A third emerging question is whether different types of batterers warrant specialized treatment or intervention. Related to the quest of "batterer types" is whether we can identify "risk markers" or predictors of who will reassault. This article summarizes the results of an analysis of several separate studies addressing these questions.
Keywords: program effect

Affiliations: 1: Mid-Atlantic Addiction Training Institute.