California Appellate Court Seizes on Simpson's Custody Case to Give Domestic Violence Greater Importance
Author: Joan Zorza.
Source: Volume 04, Number 03, February/March 1999 , pp.33-35(3)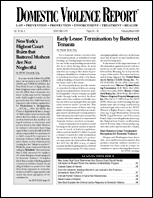 next article > |return to table of contents
Abstract:
In Guardianship of Simpson, 79 Cal. Rptr. 2d 389 (Cal. App. 4 Dist. 1998), the intermediate appellate court hearing the appeal in O.J. Simpson's custody case took the occasion to clarify just how strongly domestic violence must be considered by courts. It overturned the lower court's removal of the guardianship of Sidney and Justin Simpson from Nicole Brown's parents, Louis and Juditha Brown, and remanded the case for rehearing. The appellate court found a number of reversible errors, some of which concerned domestic violence issues. In addition, the court noted its disapproval that the child protective service agency, which "was set up to protect the children of celebrities and the rich, as well as those of the nonfamous and the nonrich," never became involved.
Keywords: improper standard for removing guardian

Affiliations: 1: Editor, Domestic Violence Report.