Why Doesn't He Leave?: The Creation of Batterer Intervention Facilities
Author: Diane L. Rosenfeld.
Source: Volume 04, Number 06, August/September 1999 , pp.81-85(5)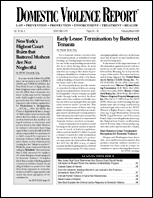 next article > |return to table of contents
Abstract:
The example of Rhonda, given here, is fairly typical. After a violent attack by an intimate partner, she tried to leave and seek protection from further abuse. He responded by tracking her down and attempting to reassault her, this time more severely than the first. The criminal justice system responded by advising her to hide in a battered women's shelter and by offering her an order of protection. One might question the inconsistency of this response, for if orders of protection provided the protection they claim to, why would the battered woman need to seek shelter? An aspirational model is offered.
Keywords: current system requires battered woman to leave

Affiliations: 1: Community Resources for Justice.