Can the "Grave Risk" Exception to Hague Convention Cases Protect Children Subject to Family Violence?
Author: Anne L. Perry .; Joan Zorza.
Source: Volume 06, Number 02, December/January 2001 , pp.17-22(6)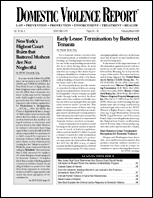 next article > |return to table of contents
Abstract:
The Hague Child Abduction Convention governs court actions in international custody cases between signatory nations. Specifically, it regulates subject matter jurisdiction, comity (which operates like full faith and credit in recognizing court orders from other countries) and enforcement, in part by mandating the return of children to their "habitual residence" for resolution on the merits of any custody claim. However, a court hearing a Hague Convention case is not bound to return the child if "there is a grave risk that his or her return would expose the child to physical or psychological harm or otherwise place the child in an intolerable situation." Commenting on a case that found such a "grave risk" at the hands of an abusive father, DVR cautioned practitioners that the "grave risk" exception has been narrowly interpreted by the vast majority of courts to apply only when returning children to parts of the world that are unsafe because of war or natural disaster, rather than to abusive parents. This column discusses several relevant cases.
Keywords: Friedrich; Blondin v. Dubois; Tabacchi v. Harrison, 2000 WL 190576 (N.D. Ill. 2000); Dalmasso v. Dalmasso

Affiliations: 1: Associate Editor of DVR; 2: Editor, Domestic Violence Report.