Hate Crime Legislation and the Inclusion of Gender: A Possible Option for Battered Women
Author: Millicent Shaw, Esq..
Source: Volume 06, Number 05, June/July 2001 , pp.65-66(2)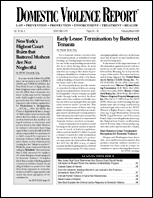 next article > |return to table of contents
Abstract:
As societal tolerance for the occurrence of bias motivated violence diminished in the United States, legislation was enacted to address these crimes. These laws send the message that such bias motivated violence will not be tolerated. These crimes are categorized as hate crimes. This article discusses some of the variations in these laws, and court decisions involving their application.
Keywords: Wisconsin v. Mitchell

Affiliations: 1: The American Prosecutors Research Institute.