New York City Child Welfare Domestic Violence Policies Held Unconstitutional, Punitive and Harmful to Children
Author: Jill Zuccardy, Esq..
Source: Volume 07, Number 05, June/July 2002 , pp.65-68(4)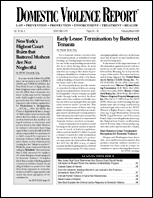 next article > |return to table of contents
Abstract:
On March 18, 2002, New York federal court judge Jack B. Weinstein issued his opinion in Nicholson v. Williams 2002 WL 4498452 (E.D.N.Y. 2002), the civil rights class action lawsuit in which battered mothers and their children successfully challenged New York City's child welfare policies in cases involving domestic violence. Forty-four witnesses testified during a two-month trial last summer, which included testimony by national child welfare and domestic violence experts Dr. Evan Stark, Betsy Grove-McAllister, Dr. David Pelcovitz, Dr. Kathryn Conroy and Alisa Del Tufo. This article discusses the evolution of the lawsuit.
Keywords: Effects of Witnessing Versus Effects of Removal; National Council of Juvenile & Family Court Judges

Affiliations: 1: Sanctuary for Families' Center for Battered Women's Legal Services.