Of Batterers and Dogs: An Investigation in Ethology and Sociology
Author: Lee H. Bowker, Ph.D..
Source: Volume 08, Number 01, October/November 2002 , pp.1-3(3)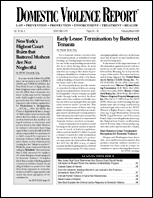 next article > |return to table of contents
Abstract:
Bowker says, in this first-person account: When testifying on behalf of battered women in homicide cases (lethal counterviolence in my lexicon), I often allude to the idea that batterers use such similar techniques and strategies, they must all have gone to the same school to learn them. When I say this, it is partly in jest, but it also has a serious point. The similarities among strategies and techniques used by batterers is remarkable, so much so that I can use the isomorphism between a battered woman's description of her batterer's pattern of battering and the general battering pattern I have observed in over a thousand cases as a major indicator of the credibility of the battered woman's overall testimony. He buttresses these findings with his observations of his two household dogs.
Keywords: Dominance-Enhancing Behavior of Dogs Provides Insight

Affiliations: 1: Humboldt State University.