Law Reform Targets the Crime of Strangulation
Author: Casey Gwinn, J.D..; Gael Strack, J.D..; Melissa Mack.
Source: Volume 19, Number 06, August/September 2014 , pp.81-84(4)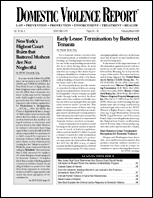 next article > |return to table of contents
Abstract:
For many years in California and across the country, strangulation cases have been prosecuted as misdemeanors, reduced to lesser charges or simply dismissed altogether, often due to lack of physical evidence. Today, because of involvement of the medical profession, specialized training for police and prosecutors, and ongoing research, strangulation has become a focus area for policymakers and professionals working to reduce intimate partner violence and sexual assault. This article explores advances in medical assessment, existing strangulation laws across the country, and defining the gravity of the crime to ultimately help hold dangerous offenders accountable and save the lives of the victims.
Keywords: how to prosecute non-fatal strangulation cases; attempted strangulation; clear legislative definitions of strangulation assault; felony statute or misdemeanor; Training Institute on Strangulation Prevention; power and control; suffocation

Affiliations: 1: Family Justice Center Alliance; 2: Family Justice Center Alliance; 3: San Diego County District Attorney's Office.