"And Then He Choked Me": Understanding and Investigating Strangulation
Author: Allison Turkel, Esq..
Source: Volume 13, Number 06, August/September 2008 , pp.81-83(3)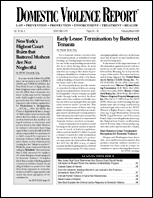 next article > |return to table of contents
Abstract:
Ten percent of violent deaths in the United States are attributable to strangulation. The fatality risk for women and children is alarming. Despite the high fatality risk of strangulation, it is often misunderstood or misidentified as something far less serious. Frequently, in adult domestic violence cases, in child abuse cases, and in sexual assault cases, there is an allegation by the victim that "he choked me." This article discusses the issue; procedures and difficulties in investigation.
Keywords: People v. Miller

Affiliations: 1: Chief of Training for NDAA's Child Abuse Programs.