Continuing the Fight to End Violence Against Women Globally
Author: Kiersten Stewart, M.A..
Source: Volume 16, Number 02, December/January 2011 , pp.17-19(3)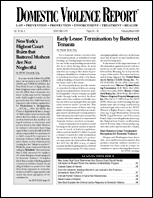 next article > |return to table of contents
Abstract:
Going to school should not be a life or death struggle. Yet in too many regions of the world, violence and the constant threat of violence are enormous obstacles for girls seeking to get an education and better their lives. The author discusses in this article cases from Afghanistan, Haiti, and around the world in the context of steps toward appropriate. Legislation, the International Violence Against Women Act (I-VAWA).
Keywords: violence against women related to human trafficking

Affiliations: 1: Family Violence Prevention Fund.