Are Psychiatrists Lexa-Professionals?
Author: Andrew R. Kaufman, M.D..
Source: Volume 11, Number 05, January/February 2010 , pp.71-72(2)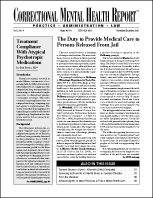 next article > |return to table of contents
Abstract:
When there are equivalent drugs available for a fraction of the cost, is it justifiable to prescribe drugs like Lexapro?
Keywords:

Affiliations: 1: SUNY Upstate Medical University.