Complete Issue
Author: Fred Cohen.
Source: Volume 17, Number 05, January/February 2016 , pp.65-80(16)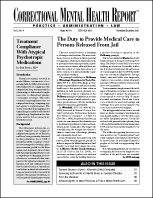 next article > |return to table of contents
Abstract:
The complete issue version includes links from table of contents entries to articles, and link article continuations, to facilitate reading. In addition to all the single articles listed separately, the complete issue includes short treatments of a study appearing in JAMA Psychiatry that concludes kids are getting antipsychotic drugs to control their behavior, not to address a clinically diagnosed psychosis; a Treatment Advocacy Center (TAC)study on the use of clozapine (Clozaril) in the treatment of individuals with schizophrenia; and a federal district court ruling that Missouri's SVP statute is unconstitutional as currently applied.
Keywords: Certified Community Behavioral Health Clinics; Health and Recovery Plans; Constitutional and ADA Claims; Sequential Intercept Model; custodial suicide; Van Orden v. Schafer

Affiliations: 1: Editor.