A Needless Jail Suicide: Criminal Events vs. Public Health Emergencies
Author: Fred Cohen.
Source: Volume 17, Number 05, January/February 2016 , pp.71-71(1)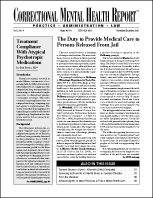 next article > |return to table of contents
Abstract:
Shortly after his arrest Alphonso Turner hanged himself in an Ecorse, Michigan jail using a shoelace that should have been taken from him given Turner's serious mental illness and expressed suicide ideation. The district court entered summary judgment in favor of defendants on plaintiff's deliberate indifference claims and on one excessive force claim. The Sixth Circuit now reverses in large part and remands for further proceedings Bonner-Turner v City of Ecorse, 2015 WL 5332465.
Keywords: Bonner-Turner v. City of Ecorse; custodial suicide

Affiliations: 1: Editor.