The SHU Post-Release Syndrome: A Preliminary Report
Author: Terry A. Kupers, M.D., M.S.P..
Source: Volume 17, Number 06, March/April 2016 , pp.81-85(5)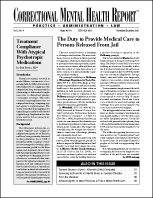 next article > |return to table of contents
Abstract:
The first time the author encountered the syndrome described in this article was in 1999. A mother from another state called concerned about a son who had just been released from prison after completing an eight year sentence. He had spent the last four of the eight years in some form of isolative confinement. His mother was very worried about the fact that, since coming home, he had spent all of his time alone in his room, not even coming out to eat meals with the family. "We are all so worried about him, what's wrong with him?" Terry Kupers had witnessed a very strong impulse to isolate in patients with severe depression, others with psychosis, and still others suffering from Post-traumatic Stress Disorder (PTSD). And he had seen a very similar clinical presentation in ex-prisoners who had spent long stints in SHU. Here, for the first time, Kupers elucidates the symptoms and causes of SHU Post-Release syndrome—disorientation following release, anxiety in unfamiliar places, a tendency to retreat into small spaces and limit social interactions, hypervigilance and heightened suspicion of others, and difficulty expressing feelings or trusting others. These problems are experienced intensely for many months after release from SHU, and then continue in less intense fashion for a very long time, possibly permanently. This set of psychologically harmful experiences occurs regardless of whether the prisoner is released to the community or simply transferred to a general population prison within the CDCR.
Keywords: PTSD; anxiety; sleeplessness; hyperawareness, paranoia; isolation; Ruiz v. Brown; prisonization

Affiliations: 1: The Wright Institute.