Supervision at a Distance: An Ethnographic Study of Control Room Officers in Belgium
Author: Marijke Roosen.
Source: Volume 35, Number 01, Spring/Summer 2022 , pp.9-14(6)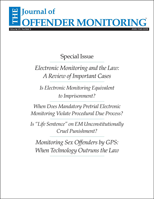 < previous article |next article > |return to table of contents
Abstract:
Although its crime rates are very low, Belgium has one of the most extensive electronic monitoring programs in Europe. Originally adopted as a way to facilitate offender reintegration, the focus has shifted toward the technology's systemic benefits as a cost-saving alternative to prisons and a way to raise citizen's trust in the criminal justice system. The author, a postdoctoral researcher on community sentencing and digital technology, undertook to research what the effects of this re-orientation have been through an examination of a new job function introduced into the Belgian court system, the control room officer, whose job is to monitor the activity recorded by GPS monitors on offenders released under EM. Monitoring by the control officer operating out of a centralized monitoring center has largely replaced the in-person work of Belgian probation officers for offenders on EM. The author interviewed control room officers over several years in order to observe their tasks and responsibilities, ascertain the degree of independent judgment and discretion officers enjoy, their interaction with management as well as monitored offenders, and the effect this new position has on the prospects for offenders preparing to re-enter society.
Keywords: Electronic Monitoring in Belgium; Supervision Efficiency, Standardization and Predictability

Affiliations: 1: Vrije Universiteit, Belgium.