The Ankle Bracelet Is History: An Informal Review of the Birth and Death of a Monitoring Technology
Author: Robert Gable.
Source: Volume 27, Number 01, Spring/Summer 2014 , pp.4-8(5)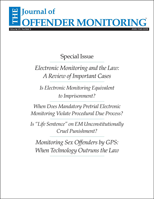 next article > |return to table of contents
Abstract:
This article traces the long and unpredictable history of the "ankle bracelet"—more precisely, equipment for verifying the location of an offender through the use of a radio transmitter worn around the ankle. Originally conceived and developed by Ralph Kirkland Gable and his brother Robert to encourage behavioral change, the earliest devices were assembled from surplus missile tracking equipment, portable transceivers, battery packs, and stationary radio-frequency relay stations. The technology was slow to catch on, and in spite of its successful application in the New Mexico courts by the visionary Judge Jack Love, it was greeted with a combination of disdain and suspicion by many probation professionals. Robert Gable surveys the fits and starts, early failures and successes, and the entrepreneurial courage and folly of innovators who eventually, through their persistence and imagination, made the fanciful notion of remote supervision a reality. As GPS transforms electronic monitoring, enabling a level of supervision that finally aligns with the imagination of the field's earliest innovators, Robert Gable provides a fascinating look at how EM began and grew.
Keywords: Electronic monitoring; radio frequency monitoring; history of electronic monitoring; Judge Jack Love; NIMCOS; Michael T. Goss; Walt Niederger; Boulder Industries; Digital Office Systems, Inc.; ComTrac

Affiliations: 1: Claremont Graduate University (Emeritus).