Confederation of European Probation (CEP) European Electronic Monitoring Conference 2018
Author: Hannah Graham.
Source: Volume 31, Number 01, Spring/Summer 2018 , pp.17-19(3)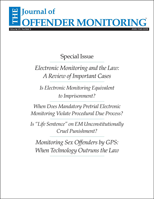 next article > |return to table of contents
Abstract:
The 11th European Electronic Monitoring conference was held in Zagreb, Croatia, in April 2018, hosted by the Confederation of European Probation (CEP) and the Republic of Croatia Ministry of Justice. The theme was 'blurring boundaries, making and breaking connections' and the conference was attended by more than 230 delegates from 41 countries around the world, with significant numbers of conference delegates from the Netherlands, Israel, the United Kingdom and Switzerland, and others from a diverse range of countries including Azerbaijan, Thailand, Japan, Brazil, Australia and New Zealand. In this article, Professor Hannah Graham summarizes noteworthy presentations from the meeting, including sessions led by Anthea Hucklesby (UK), Deborah Thompson (Netherlands), and Kristel Beyens (Belgium).
Keywords: Using tracking technology in health and mental health, justice, immigration, and radicalism and counter-terrorism

Affiliations: 1: University of Stirling, UK.